Art Therapy Chiang Mai- Now Available Online
We use art therapy in Chiang Mai and online to help our clients of all ages explore their emotions, actively improve their self-esteem, manage struggles more effectively, relieve anxiety, improve symptoms of depression and also cope with physical illnesses. It is important to remember no artistic talent or technique is required to succeed in art therapy as the therapeutic process is not aimed at the artistic value of the work, but rather about finding associations between the artistic work presented by the clients and their inner feelings. We aim for the artwork to act as an avenue for reawakening memories and repressed feelings.
What to Expect
 As with traditional therapy, your first art therapy session online will consist of you talking to our therapists about why you want to seek help and also learn what we have to offer. Together with one of our experienced therapists, you can come up with a treatment plan which integrating some form of artwork. Once you begin creating your artwork, our therapists will simply observe your process, without judgment. Once you are done with your artwork, the therapists will ask you questions about how you felt through the process, what came easily and what was more difficult and what thoughts or memories are provoked while you're working. Our therapists will ask you about your experience and feelings and eventually provide you with their observations.
How Art Therapy in Chiang Mai Works
 Art therapy in Chiang Mai focuses on the belief that self-expression through your artistic creation has a certain therapeutic value for those who are seeking a more in-depth understanding of themselves and their inner feelings. Our therapists are trained and experienced in understanding the roles that colour, texture and art media can play in the process and how these factors can help reveal one's feelings, thoughts and disposition. Art therapy usually integrates traditional psychotherapy and some form of art but is also used in combination with other types of therapy.
Why Choose Art Therapy Online?
 Due to the current restrictions put in place due to the global pandemic, many therapists have been required to move their practices online. Art therapy online is a new and exciting concept, which is easily accessible from the comfort of your own home. Clients get to express their feelings in new and unique ways through images and not words. The restrictions put in place also allow us to expand our client base and take on clients globally online.
During your online sessions, our therapists encourage you to choose your own art materials for example crayons, pencils, paints, charcoal or whatever suits your preference. We have confidential sessions online via Zoom.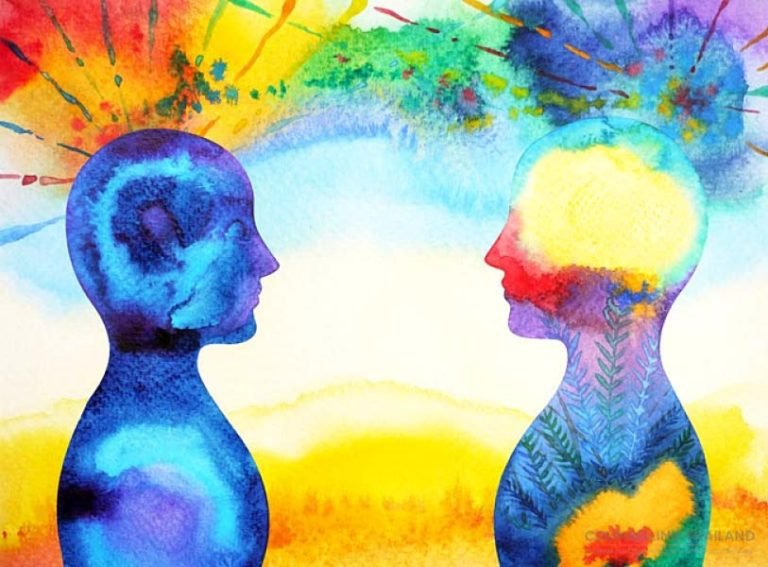 Benefits of Art Therapy in Chiang Mai
Art therapy has been proved to benefit clients of all ages. Research in the field also indicated this form of therapy can improve communication and concentration and also helps reduce feelings of loneliness. Art therapy has also been shown to lead to a significant increase in self-esteem, self-confidence, and self-awareness.
Positive results in art therapy may be achieved by clients facing issues such as:
Post-Traumatic Stress Disorder (PTSD)
Attention Deficit Hyperactivity Disorder (ADHD)
Cancer & Other Terminal Illnesses
Eating Disorders
Cognitive Impairments
Family & Relationship Issues.
We believe art therapy is particularly helpful because it allows people to express their feelings healthily through creative work, rather than using words. It is said to be particularly helpful for those who feel disconnected from their inner feelings and emotions. Clients who are experiencing difficulties when discussing or recalling traumatic experiences may also find art therapy beneficial.
How It Is Used
 Common techniques used in art therapy online include:
Finger painting.
Doodling.
Drawing.
Sculpting.
Pottery.
Carving.
Making collages.
Our experienced therapists use these methods to support clients to express their feelings which may be difficult to verbalise, to explore their inner feelings and emotions, to clarify and resolve repressed conflicts and to ultimately enhance overall self-awareness and self-confidence.
Who Can Benefit from Art Therapy? 
We aim for art therapy to benefit clients of all ages globally. Some clients may be diagnosed with depression or anxiety, illness or trauma or sometimes simply seek a greater sense of clarity and well-being.
Art Therapy focuses on our sensory experience, enabling the isolation of certain senses, allowing the process of emotions and linking thought patterns. Research and studies suggest this form of therapy can range from helping people with post-traumatic stress disorder, helping people open pathways between their inner feelings and thoughts and also helping to resolve any deep-seated stressors. Children can also benefit from art therapy, particularly those children who may have been abused or suffer from depression, anxiety or trauma.
It is important to remember, it is okay if you are not artistically gifted, or very creative. The simplest form of drawing, sculpting, pottery and any other art form is crucial as it is meant to represent who you are and your inner feelings.
How to Access Art Therapy Online?
If you feel you or anyone around you could benefit from art therapy online, please feel free to reach out to us through our online enquiry form. With the pandemic's current restrictions, our therapists aim to be easily accessible to all their clients online. Additionally, we also offer a free telephone consultation to see if we are indeed the perfect fit for you or to answer any questions you may have.